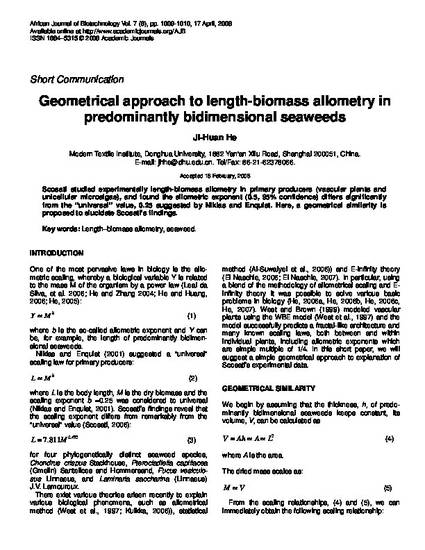 Article
Geometrical approach to length-biomass allometry in predominantly bidimensional seaweeds
African Journal of Biotechnology Vol. 7 (8), pp. 1009-1010, 17 April, 2008 (2008)
Abstract
Scosati studied experimentally length-biomass allometry in primary producers (vascular plants and unicellular microalgae), and found the allometric exponent (0.5, 95% confidence) differs significantly from the "universal" value, 0.25 suggested by Niklas and Enquist. Here, a geometrical similarity is proposed to elucidate Scosati's findings.
Citation Information
Ji-Huan He. "Geometrical approach to length-biomass allometry in predominantly bidimensional seaweeds"
African Journal of Biotechnology Vol. 7 (8), pp. 1009-1010, 17 April, 2008
(2008)
Available at: http://works.bepress.com/ji_huan_he/26/