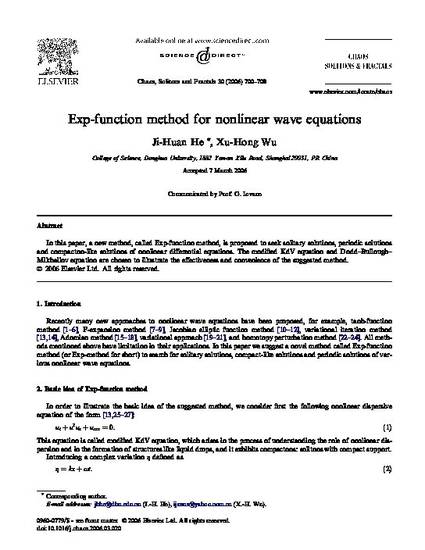 Article
Exp-function method for nonlinear wave equations
Chaos, Solitons & Fractals, Volume 30, Issue 3, November 2006, Pages 700-708 (2006)
Abstract
In this paper, a new method, called Exp-function method, is proposed to seek solitary solutions, periodic solutions and compacton-like solutions of nonlinear differential equations. The modified KdV equation and Dodd–Bullough–Mikhailov equation are chosen to illustrate the effectiveness and convenience of the suggested method.
Citation Information
Ji-Huan He and Xu-Hong Wu. "Exp-function method for nonlinear wave equations"
Chaos, Solitons & Fractals, Volume 30, Issue 3, November 2006, Pages 700-708
(2006)
Available at: http://works.bepress.com/ji_huan_he/17/