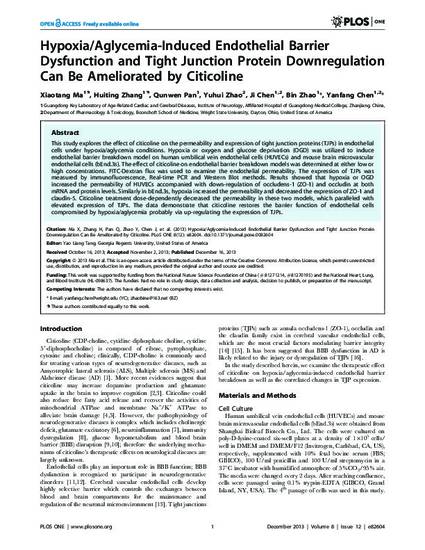 Article
Hypoxia/Aglycemia-Induced Endothelial Barrier Dysfunction and Tight Junction Protein Downregulation Can Be Ameliorated by Citicoline
PLOS One
Publication Date
12-16-2013
Abstract
This study explores the effect of citicoline on the permeability and expression of tight junction proteins (TJPs) in endothelial cells under hypoxia/aglycemia conditions. Hypoxia or oxygen and glucose deprivation (OGD) was utilized to induce endothelial barrier breakdown model on human umbilical vein endothelial cells (HUVECs) and mouse brain microvascular endothelial cells (bEnd.3s). The effect of citicoline on endothelial barrier breakdown models was determined at either low or high concentrations. FITC-Dextran flux was used to examine the endothelial permeability. The expression of TJPs was measured by immunofluorescence, Real-time PCR and Western Blot methods. Results showed that hypoxia or OGD increased the permeability of HUVECs accompanied with down-regulation of occludens-1 (ZO-1) and occludin at both mRNA and protein levels. Similarly in bEnd.3s, hypoxia increased the permeability and decreased the expression of ZO-1 and claudin-5. Citicoline treatment dose-dependently decreased the permeability in these two models, which paralleled with elevated expression of TJPs. The data demonstrate that citicoline restores the barrier function of endothelial cells compromised by hypoxia/aglycemia probably via up-regulating the expression of TJPs.
DOI
10.1371/journal.pone.0082604
Citation Information
Xiaotang Ma, Huiting Zhang, Qunwen Pan, Yuhui Zhao, et al.. "Hypoxia/Aglycemia-Induced Endothelial Barrier Dysfunction and Tight Junction Protein Downregulation Can Be Ameliorated by Citicoline"
PLOS One
(2013) ISSN: 1932-6203
Available at: http://works.bepress.com/ji_bihl/16/