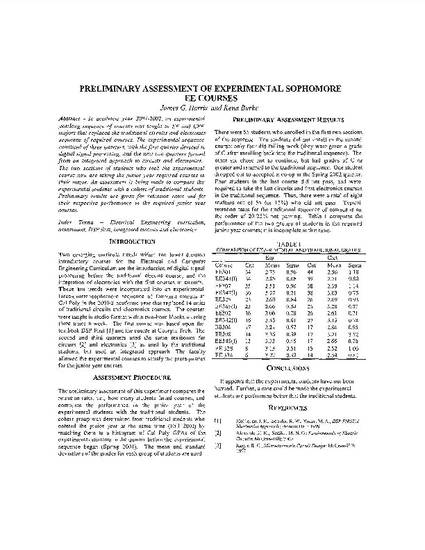 Presentation
Preliminary assessment of experimental sophomore EE courses
The 33rd ASEE/IEE Frontiers in Education Conference Proceedings: Boulder, CO
Publication Date
11-5-2003
Abstract
In academic year 2001-2002, an experimental yearlong sequence of courses was taught to EE and CPE majors that replaced the traditional circuits and electronics sequence of required courses. The experimental sequence consisted of three quarters, with the first quarter devoted to digital signal processing, and the next two quarters formed from an integrated approach to circuits and electronics. The two sections of students who took the experimental course now are taking the junior year required courses in their major. An assessment is being made to compare the experimental students with a cohort of traditional students. Preliminary results are given for retention rates and for their respective performance in the required junior year courses.
Citation Information
James G. Harris and Kena Burke. "Preliminary assessment of experimental sophomore EE courses"
The 33rd ASEE/IEE Frontiers in Education Conference Proceedings: Boulder, CO
Vol. 1 (2003) p. T3B - T26
Available at: http://works.bepress.com/jharris/13/