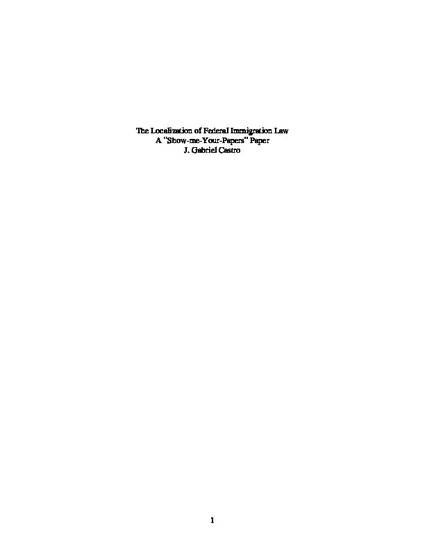 Unpublished Paper
The Localization of Federal Immigration Law -- A "Show Me Your Papers" Paper
ExpressO (2013)
Abstract
This paper discusses the policy concerns behind state enforcement of federal immigration law, the substance of these laws, and their future following the Supreme Court's decision in United States v. Arizona. It will also cover what needs to be done for the laws to be repudiated or applied more successfully. Part II will deal with the historical development behind the Supreme Court's treatment of authority over immigration control and regulation. Part III discusses the reasoning behind the outcome of the case determining the validity of SB 1070, Arizona v. United States. Finally, part IV will look to the future of "show-me-your-papers" and the possible avenues that opponents of the law may try to take to end the enforcement of the law.
Publication Date
August 2, 2013
Citation Information
J. Gabriel Castro. "The Localization of Federal Immigration Law -- A "Show Me Your Papers" Paper"
ExpressO
(2013)
Available at: http://works.bepress.com/jgabriel_castro/1/