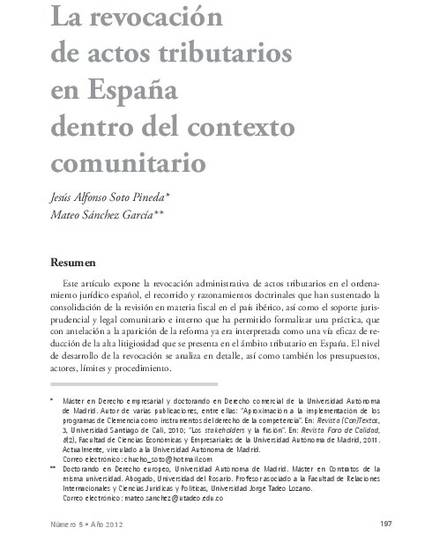 Article
La revocación de actos tributarios en españa dentro del contexto comunitario (Revocation of Tax Acts in Spain within the EU Context)
RAI. Revista de análisis internacional (2012)
Abstract
Este artículo expone la revocación administrativa de actos tributarios en el ordenamiento jurídico español, el recorrido y razonamientos doctrinales que han sustentado la consolidación de la revisión en materia fiscal en el país ibérico, así como el soporte jurisprudencial y legal comunitario e interno que ha permitido formalizar una práctica, que con antelación a la aparición de la reforma ya era interpretada como una vía eficaz de reducción de la alta litigiosidad que se presenta en el ámbito tributario en España. El nivel de desarrollo de la revocación se analiza en detalle, así como también los presupuestos, actores, límites y procedimiento.
This article shows the administrative Revocation of tributary acts in the Spanish legal system, doctrinal arguments and the route that have supported the consolidation of review in tax matters in the Iberian Country, as well as jurisprudence and legal support in the internal and EU community levels has allowed to formalize a practice that in advance to the appearance of the reform, was already interpreted as an effective way of reducing the high litigation that occurs in the Tributary Scope in Spain. The level of development of the revocation is analyzed in detail, as well as its requirements, actors, limits and procedure.
Keywords
Ley General Tributaria Española,
revisión administrativa,
revisión fiscal,
acto tributario,
revocación.
Publication Date
Fall 2012
Citation Information
Jesús A. Soto. "La revocación de actos tributarios en españa dentro del contexto comunitario (Revocation of Tax Acts in Spain within the EU Context)"
RAI. Revista de análisis internacional
Iss. 5 (2012)
Available at: http://works.bepress.com/jesusalfonsosoto/3/