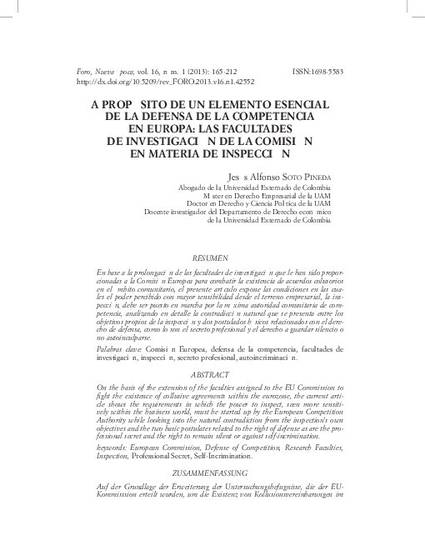 Article
A propósito de un elemento esencial de la Defensa de la competencia en Europa: las facultades de investigación de la Comisión en materia de inspección (About an essential element of the European antitrust: Commission investigation faculties of inspection)
FORO. Revista de ciencias jurídicas y sociales, Nueva época. (2013)
Abstract
En base a la prolongación de las facultades de investigación que le han sido proporcionadas a la Comisión Europea para combatir la existencia de acuerdos colusorios en el ámbito comunitario, el presente artículo expone las condiciones en las cuales el poder percibido con mayor sensibilidad desde el terreno empresarial, la inspección, debe ser puesto en marcha por la máxima autoridad comunitaria de competencia, analizando en detalle la contradicción natural que se presenta entre los objetivos propios de la inspección y dos postulados básicos relacionados con el derecho de defensa, como lo son el secreto profesional y el derecho a guardar silencio o no autoinculparse.
On the basis of the extension of the faculties assigned to the EU Commission to fight the existence of collusive agreements within the eurozone, the current article shows the requirements in which the power to inspect, seen more sensitively within the business world, must be started up by the European Competition Authority while looking into the natural contradiction from the inspection's own objectives and the two basic postulates related to the right of defense as are the professional secret and the right to remain silent or against self-incrimination.
Keywords
Comisión Europea,
defensa de la competencia,
facultades de investigación,
inspección,
secreto profesional,
autoincriminación,
European Commission,
Defense of Competition,
Research Faculties,
Inspection,
Professional Secret,
Self-Incrimination.
Publication Date
Winter December, 2013
Citation Information
Jesús Alfonso Soto Pineda. "A propósito de un elemento esencial de la Defensa de la competencia en Europa: las facultades de investigación de la Comisión en materia de inspección (About an essential element of the European antitrust: Commission investigation faculties of inspection)"
FORO. Revista de ciencias jurídicas y sociales, Nueva época.
Vol. 16 Iss. 1 (2013)
Available at: http://works.bepress.com/jesusalfonsosoto/1/