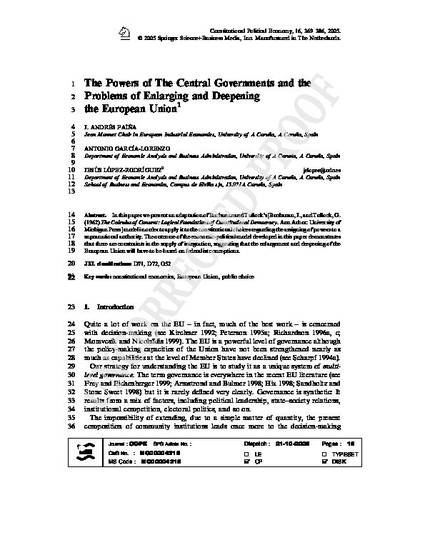 Article
The Powers of the Central Governments and the Problems of Enlarging and Deepening the European Union: An Essay of Constitutional Political Economy
Constitutional Political Economy (2005)
Abstract
In this paper we present an adaptation of Buchanan and Tullock's model in order to apply it to the constitutional choices regarding the assigning of powers to a supranational authority. The outcome of the economic-political model developed in this paper demonstrates that there are constraints in the supply of integration, suggesting that the enlargement and deepening of the European Union will have to be based on federalist conceptions.
Keywords
constitutional economics - European Union - public choice
Citation Information
García Lorenzo, A., Faiña, A. and J. López-Rodríguez (2005) "The Powers of the Central Governments and the Problems of Enlarging and Deepening the European Union: An Essay of Constitutional Political Economy" Constitutional Political Economy 16, pp.369-386.