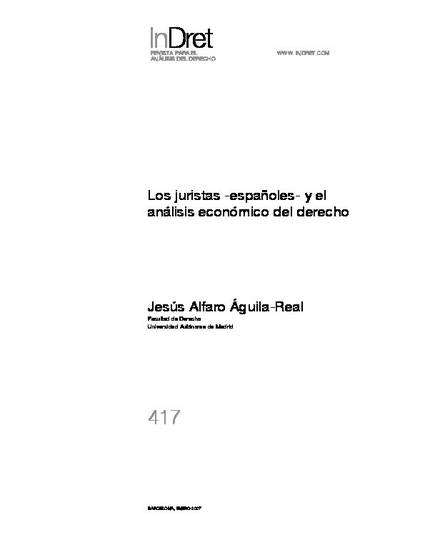 Article
Los juristas -españoles- y el análisis económico del derecho. European Contract Law and Economic Welfare: A view from Law and Economics
InDret (2007)
Abstract
El análisis económico del Derecho es la forma más adecuada de analizar las reglas jurídicas, en particular, en lo que al Derecho privado se refiere. Es decir, que no solo no hay incompatibilidad alguna entre análisis económico y Derecho sino que el Derecho ha de ser analizado económicamente. De hecho, el Derecho Privado occidental constituye la institucionalización de la economía de mercado. Las instituciones jurídicas están al servicio de los fines de los particulares: su diseño, la interpretación y aplicación de sus reglas debe hacerse, por tanto, sin perder de vista tal función y tratando de maximizar el bienestar de la sociedad en su conjunto de manera que podamos explotar los enormes beneficios que se derivan del intercambio. A continuación se comentan varias instituciones y su relación con el análisis económico del derecho.
Citation Information
Jesús Alfaro Águila-Real. "Los juristas -españoles- y el análisis económico del derecho. European Contract Law and Economic Welfare: A view from Law and Economics"
InDret
Vol. 1 (2007)
Available at: http://works.bepress.com/jesus_alfaro_aguila_real/3/