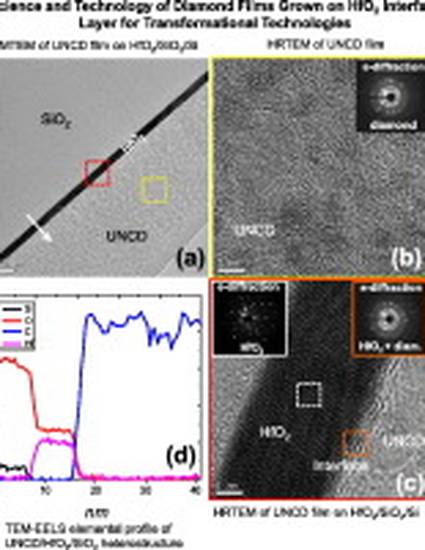 Article
Science and technology of diamond films grown on HfO2 interface layer for transformational technologies
Diamond and Related Materials (2016)
Abstract
This paper describes the science underlying the synthesis and characterization of microcrystalline diamond (MCD) to ultrananocrystalline diamond (UNCD) films on hafnium oxide (HfO
2
) thin films, grown on flat Si substrates and micro-pillars on Si substrates, for the first time. HfO
2
 is used as a novel inter-phase layer for the integration of microcrystalline (1–3 μm grain size), nanocrystalline (10–200 nm grain size), and ultrananocrystalline diamond (3–5 nm grain size) as coatings on substrates used in transformational technologies such as silicon, oxides, and metals that need protective corrosion/mechanical abrasion resistant coatings developed in this work. Atomic layer deposition was used to grow HfO
2
 films with 5, 10, 30 and 100 nm in thickness, while hot filament chemical vapor deposition was used to grow diamond films, respectively. High resolution transmission electron microscopy, X-ray photoelectron and Raman spectroscopies revealed the formation of an atomic scale hafnium carbide (HfC) interphase layer on the surface of the HfO
2
 film, which provides efficient nucleation for diamond film growth to produce tailored diamond surfaces on flat Si substrates and Si micro-pillars on flat Si substrates, for new transformational micro/nano-electronics and other high-tech technologies.
Keywords
diamond,
diamond films,
HfO2,
Dielectric Layer,
HFCVD,
Diamond Devices
Publication Date
Summer October, 2016
DOI
http://dx.doi.org/10.1016/j.diamond.2016.09.010
Citation Information
Jesus Alcantar-Peña. "Science and technology of diamond films grown on HfO2 interface layer for transformational technologies"
Diamond and Related Materials
Vol. 69 (2016) p. 221 - 228 ISSN: 0925-9635
Available at: http://works.bepress.com/jesus-alcantar/3/