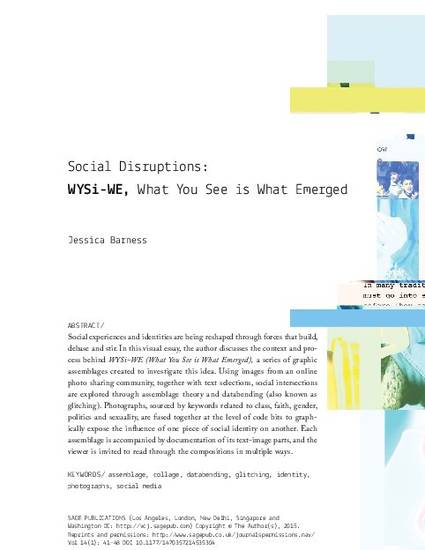 Article
Social Disruptions: WYSi-WE, What You See is What Emerged
Visual Communication (2015)
Abstract
Social experiences and identities are being reshaped through forces that build, debase and stir. In this visual essay, the author discusses the context and process behind WYSi-WE (What You See is What Emerged), a series of graphic assemblages created to investigate this idea. Using images from an online photo sharing community, together with text selections, social intersections are explored through assemblage theory and databending (also known as glitching). Photographs, sourced by keywords related to class, faith, gender, politics and sexuality, are fused together at the level of code bits to graphically expose the influence of one piece of social identity on another. Each assemblage is accompanied by documentation of its text-image parts, and the viewer is invited to read through the compositions in multiple ways.
Keywords
Visual Culture,
Graphic Design,
Collage,
Visual Communication Design,
Assemblage Theory,
Glitch Art and Databending
Publication Date
February, 2015
DOI
https://doi.org/10.1177/1470357214535304
Citation Information
Barness, J. (2015). Social Disruptions: WYSi-WE, What You See is What Emerged. Visual Communication, 14 (1), 41–48.