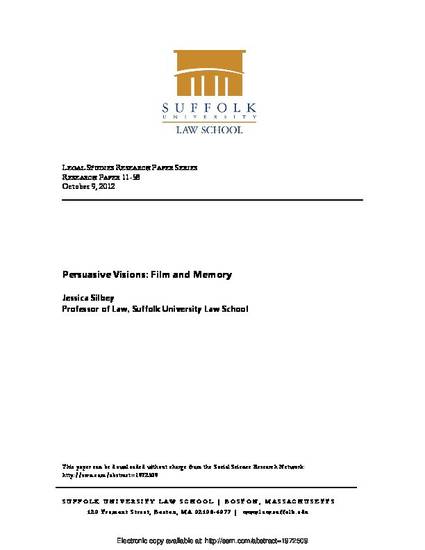 Article
Persuasive Visions: Film and Memory
Law, Culture and the Humanities (2012)
Abstract
This commentary takes a new look at law and film studies through the lens of film as memory. Instead of describing film as evidence and foreordaining its role in truth-seeking processes, it thinks instead of film as individual, institutional and cultural memory, placing it squarely within the realm of contestability. Paralleling film genres, the commentary imagines four forms of memory that film could embody: memorabilia (cinema verite), memoirs (autobiographical and biographical film), ceremonial memorials (narrative film monuments of a life, person or institution), and mythic memory (dramatic fictional film). Imagining film as memory resituates film's role in law (procedural, substantive and cultural) as authoritative rhetoric that must be disputed and reappropriated to serve the specific goals of justice.
Keywords
film,
memory,
video,
criminal law,
evidence,
cultural studies,
law and culture,
law and humanities
Publication Date
January, 2012
Citation Information
Jessica M Silbey. "Persuasive Visions: Film and Memory"
Law, Culture and the Humanities
(2012)
Available at: http://works.bepress.com/jessica_silbey/20/