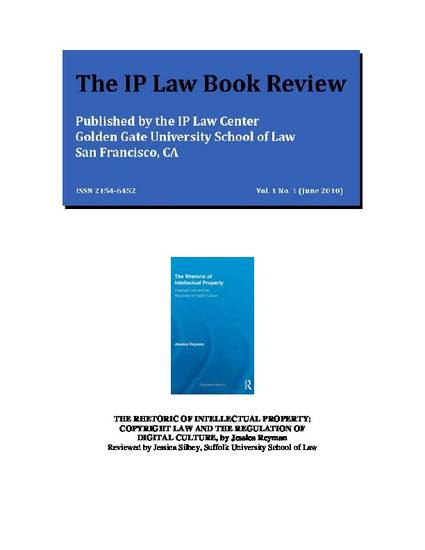 Article
Language and Culture in Intellectual Property Law: A Book Review (Reviewing Jessica Reymann's "The Rhetoric of Intellectual Property: Copyright and the Regulation of Digital Culture)
The IP Book Review (2010)
Abstract
Jessica Reyman's THE RHETORIC OF INTELLECTUAL PROPERTY: COPYRIGHT LAW AND THE REGULATION OF DIGITAL CULTURE is a book whose time has come. As a book about the rhetorical divide between the content industry and copyright activists, it analyzes the deep rifts between the language of incentives and exclusivity and the counterdiscourse of cooperation and the commons. And as a piece about the upheaval in the socio-legal landscape of intellectual property rights, it is in good company. There are multitudes of recent books and articles that seek a solution to the divide that animates disputes about owners and users (many of whom Reyman cites, so I won't cite here). What Reyman does that is different from the developing scholarship on the "second enclosure movement" is that she focuses on a solution based on language rather than regulation. Recognizing that language is power -- that rhetoric constitutes the culture we inhabit -- Reyman analyzes in eight very manageable chapters the discursive landscape of the intellectual property culture wars and proposes a grammar for its armistice.
Keywords
intellectual property,
rhetoric,
narrative,
copyright,
digital culture
Publication Date
Summer June 1, 2010
Citation Information
Jessica M Silbey. "Language and Culture in Intellectual Property Law: A Book Review (Reviewing Jessica Reymann's "The Rhetoric of Intellectual Property: Copyright and the Regulation of Digital Culture)"
The IP Book Review
Vol. 1 Iss. 1 (2010)
Available at: http://works.bepress.com/jessica_silbey/15/