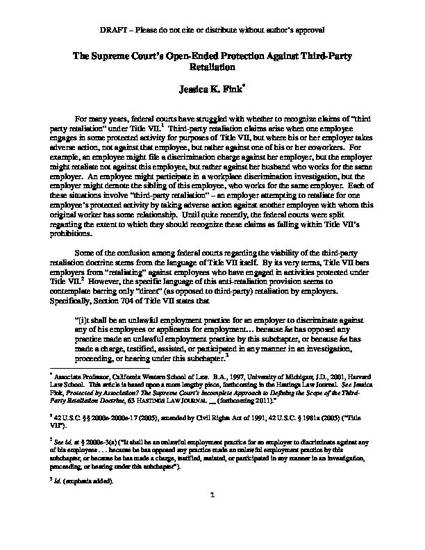 Unpublished Paper
The Supreme Court's Open-Ended Protection Against Third-Party Retaliation
ExpressO (2011)
Abstract
For a number of years, courts have struggled with how to treat claims of "third party retaliation" – situations where an employee engages in some protected activity for purposes of Title VII, but where the employer retaliates not against that employee, but rather against one of his/her coworkers. Until very recently, federal courts arrived at varying conclusions regarding the viability of third-party retaliation claims under Title VII. However, in January 2011 decision, the U.S. Supreme Court finally weighed in on this issue, holding in Thompson v. North American Stainless, LP that Title VII would bar employers from engaging in third-party retaliation. This Article stands as one of the first published examinations of the Thompson decision. The Article describes the analysis undertaken by the Supreme Court in Thompson and focuses on a significant flaw in the Court's reasoning – namely, the Court's failure to articulate any workable framework for defining the scope of the third-party retaliation doctrine.
Publication Date
July 20, 2011
Citation Information
Jessica Fink. "The Supreme Court's Open-Ended Protection Against Third-Party Retaliation"
ExpressO
(2011)
Available at: http://works.bepress.com/jessica_fink/4/