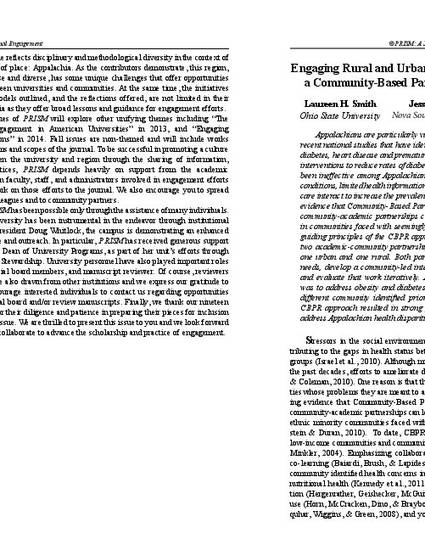 Article
Engaging Rural and Urban Appalachians in Research using a Community-Based Participatory Research Approach
PRISM: a Journal of Regional Engagement
Abstract
Appalachians are particularly vulnerable to chronic diseases as documented by recent national studies that have identified disproportionally higher rates of cancer, diabetes, heart disease and premature mortality for this population. Evidence-based interventions to reduce rates of diabetes and obesity among adults and children have been ineffective among Appalachians where multiple factors including poor living conditions, limited health information, lifestyle behaviors, and lack of access to health care interact to increase the prevalence of these problems. However, there is growing evidence that Community-Based Participatory Research (CBPR) conducted through community-academic partnerships can lead to significant health and social impact in communities faced with seemingly intractable health disparities. Framed in the guiding principles of the CBPR approach, this paper describes the development of two academic-community partnerships that took root in Appalachian communities, one urban and one rural. Both partnerships aimed to identify community health needs, develop a community-led intervention to promote positive health outcomes, and evaluate that work iteratively. Although the initial focus for each community was to address obesity and diabetes risk, adherence to the CBPR approach led to different community identified prioritized needs and different pilot projects. The CBPR approach resulted in strong partnerships, each with improved capacity to address Appalachian health disparities in their communities.
Citation Information
Laureen H. Smith, Jessica Valenzuela and Robert L. Ludke. "Engaging Rural and Urban Appalachians in Research using a Community-Based Participatory Research Approach"
PRISM: a Journal of Regional Engagement
Available at: http://works.bepress.com/jessica-valenzuela/55/