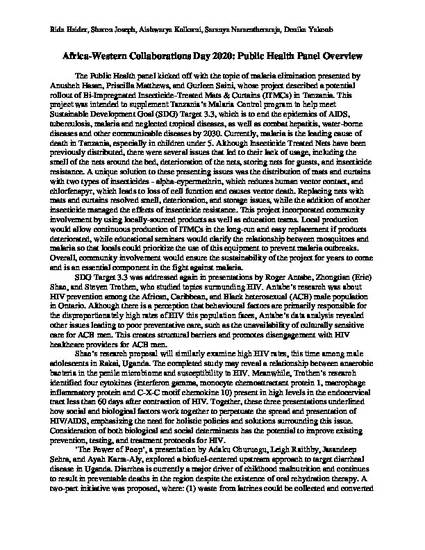 Presentation
Public Health Panel
Africa-Western Collaborations Day 2020
Event Website
https://ir.lib.uwo.ca/awc_abstracts/
Start Date
18-11-2020 1:30 PM
End Date
18-11-2020 3:30 PM
Description
8 graduate student/recent graduate presentations on varying topics related to public health. Moderated by Dr. Jessica Prodger. Reporting of panel done by current GHS students of the 2021 class. Abstracts can be found under "Africa-Western Collaborations Day 2020 Abstracts". Presenters as follows:
Roger Antabe et al., "HIV Prevention Among Heterosexual Blackmen in Ontario: The Need to Revisit Provincial Policy"
Ayah Karra-Aly, Adaku Ohuruogu, Georgia Raithby, Jasandeep Sehra, "The Power of Poop"
Ryan LaPenna et al., "Using a One Health Approach to Address the Challenges Posed by Rabies to Animals and People in Rurals Areas in Victoria Falls, Zimbabwe"
Gurleen Saini, Anusheh Khan, Priscilla Matthews, "Malaria Elimination"
Zhongtian (Eric) Shao et al., "Effect of Physical Maturation and Sexual Debut on HIV Susceptibility in Adolescent Males in Rakai, Uganda"
Steven Trothen et al., "Evaluation of Cytokine Profiles within the Endocervical Tract of HIV-1 Infected Females"
Jason Were et al., "The Epidemiology of Overweight and Obesity in Ghana: Examination of Predictors and Risk Groups among Women of Childbearing Age"
Bianca Ziegler et al., "Antenatal Care Utilization in the Fragile and Conflict-Affected Context of the Democratic Republic of Congo"
Citation Information
Jessica Prodger. "Public Health Panel" (2020)
Available at: http://works.bepress.com/jessica-prodger/1/