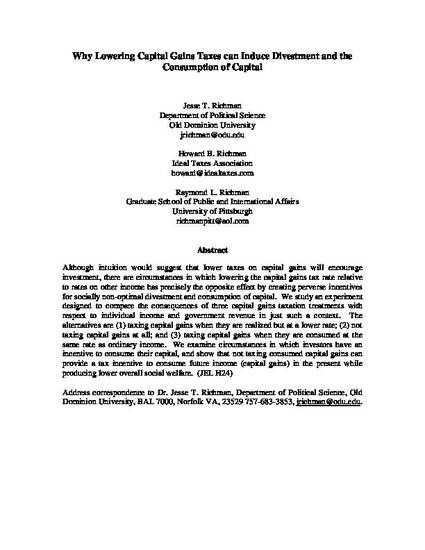 Unpublished Paper
Why Lowering Capital Gains Taxes can Induce Divestment and the Consumption of Capital
ExpressO (2011)
Abstract
Although intuition would suggest that lower taxes on capital gains will encourage investment, there are circumstances in which lowering the capital gains tax rate relative to rates on other income has precisely the opposite effect by creating perverse incentives for socially non-optimal divestment and consumption of capital. We study an experiment designed to compare the consequences of three capital gains taxation treatments with respect to individual income and government revenue in just such a context. The alternatives are (1) taxing capital gains when they are realized but at a lower rate; (2) not taxing capital gains at all; and (3) taxing capital gains when they are consumed at the same rate as ordinary income. We examine circumstances in which investors have an incentive to consume their capital, and show that not taxing consumed capital gains can provide a tax incentive to consume future income (capital gains) in the present while producing lower overall social welfare.
Keywords
capital gain,
flat tax,
rollover
Publication Date
June 30, 2011
Citation Information
Jesse T Richman, Howard B Richman and Raymond L Richman. "Why Lowering Capital Gains Taxes can Induce Divestment and the Consumption of Capital"
ExpressO
(2011)
Available at: http://works.bepress.com/jesse_richman/1/