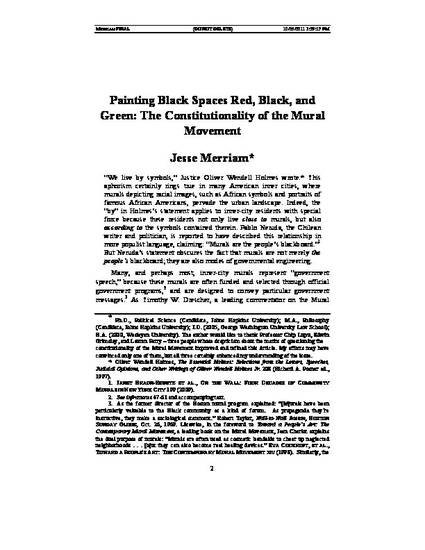 Article
Painting Black Spaces Red, Black, and Green: The Constitutionality of the Mural Movement
The Berkeley Journal of African-American Law & Policy (2011)
Abstract
"We live by symbols," Justice Oliver Wendell Holmes wrote. This aphorism certainly rings true in many American inner cities, where murals depicting racial images, such as African symbols and portraits of famous African Americans, pervade the urban landscape. Indeed, the "by" in Holmes's statement applies to inner-city residents with special force because these residents not only live close to murals, but also according to the symbols contained therein. Pablo Neruda, the Chilean writer and politician, is reported to have described this relationship in more populist language, claiming: "Murals are the people's blackboard." But Neruda's statement obscures the fact that murals are not merely the people's blackboard; they are also modes of governmental engineering, and as such, they are subject to constitutional constraints on the government's authority to use race and religion to convey particular messages. This article explores the constitutionality of such government-controlled murals that employ religious and racial themes.
Publication Date
Fall 2011
Citation Information
Jesse R Merriam. "Painting Black Spaces Red, Black, and Green: The Constitutionality of the Mural Movement"
The Berkeley Journal of African-American Law & Policy
Vol. 13 Iss. 1 (2011)
Available at: http://works.bepress.com/jesse_merriam/20/