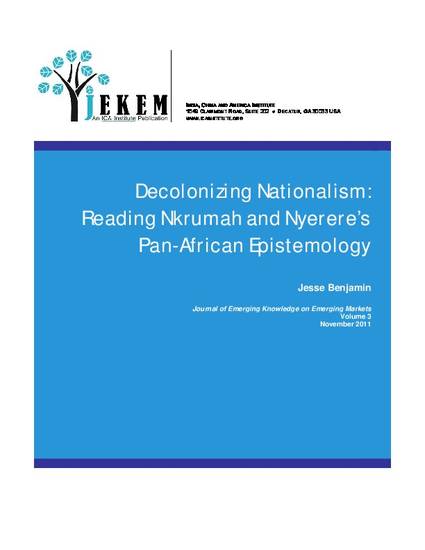 Article
Decolonizing Nationalism: Reading Nkrumah and Nyerere's Pan-African Epistemology
Journal of Emerging Knowledge on Emerging Markets
Abstract
Using the perspective of intellectual history, this essay explores the lives and philosophies of Julius K. Nyerere and Kwame Nkrumah, heads of state in Tanzania and Ghana, respectively, as well as philosophers, activists, and Pan-African leaders throughout their lifetimes. The central focus is on their concepts and practices of nationalism, and their attempts to transcend the confines of colonial, Western epistemologies in formulating new African social practices. Their concepts of African socialism, pan-Africanism, and neo-colonialism are examined closely. Their lived experiences with injustice in Africa and the Black Atlantic shaped their perspectives. Their unfinished work bequeathed to us tools for contemporary struggles to find political and philosophical pathways to social justice and full humanity, on and off of the African continent.
Citation Information
Jesse Benjamin. "Decolonizing Nationalism: Reading Nkrumah and Nyerere's Pan-African Epistemology"
Available at: http://works.bepress.com/jesse_benjamin/3/