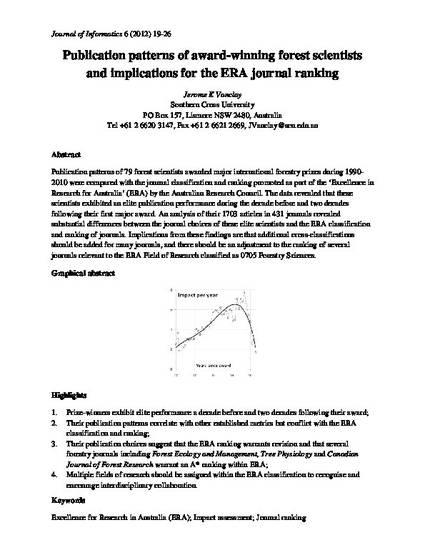 Article
Publication patterns of award-winning forest scientists and implications for the Australian ERA journal ranking
Journal of Informetrics
Publication Date
10-1-2012
Peer Reviewed
Peer-Reviewed
Abstract
Publication patterns of 79 forest scientists awarded major international forestry prizes during 1990–2010 were compared with the journal classification and ranking promoted as part of the 'Excellence in Research for Australia' (ERA) by the Australian Research Council. The data revealed that these scientists exhibited an elite publication performance during the decade before and two decades following their first major award. An analysis of their 1703 articles in 431 journals revealed substantial differences between the journal choices of these elite scientists and the ERA classification and ranking of journals. Implications from these findings are that additional cross-classifications should be added for many journals, and there should be an adjustment to the ranking of several journals relevant to the ERA Field of Research classified as 0705 Forestry Sciences.
Citation Information
Vanclay, JK 2012, 'Publication patterns of award-winning forest scientists and implications for the Australian ERA journal ranking', Journal of Informetics, vol 6, no. 1, pp. 19-26.
Published version available from: