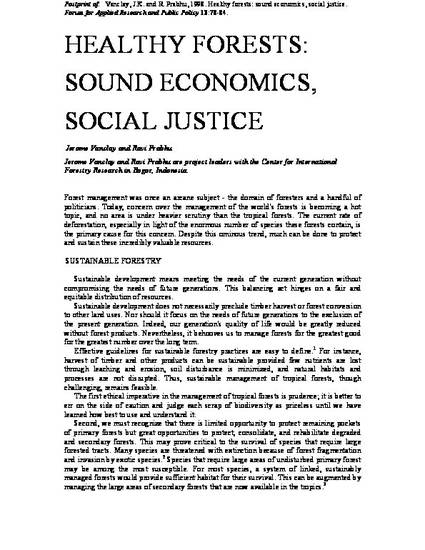 Article
Healthy forests, sound economics, social justice
Forum for Applied Research and Public Policy
Publication Date
1-1-1998
Abstract
Concern over the management of the world's forests is becoming a hot topic, and no area is under heavier scrutiny than the tropical forests. The current rate of deforestation, especially in light of the enormous number of species these forests contain, is the primary cause for this concern. Despite this ominous trend, much can be done to protect and sustain these incredibly valuable resources.
Citation Information
Post-print of Vanclay, JK 1998, 'Healthy forests, sound economics, social justice',
Forum for Applied Research and Public Policy
, vol. 13, pp. 78-84.
The abstract and pdf of the published article reproduced in ePublications@SCU with the permission of Forum for Applied Research and Public Policy