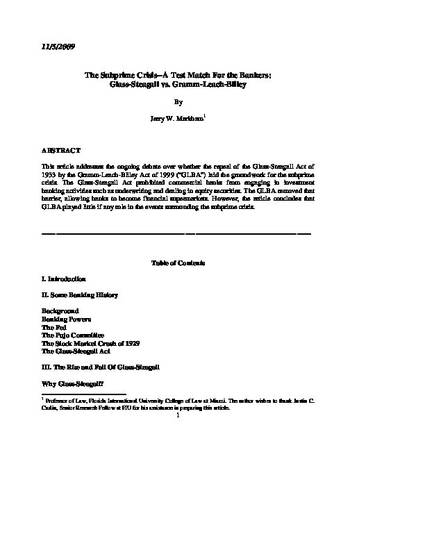 Unpublished Paper
The Subprime Crisis--A Test Match For the Bankers: Glass-Steagall vs. Gramm-Leach-Bliley
ExpressO (2009)
Abstract
This article addresses the ongoing debate over whether the repeal of the Glass-Steagall Act of 1933 by the Gramm-Leach-Bliley Act of 1999 ("GLBA") laid the groundwork for the subprime crisis. The Glass-Steagall Act prohibited commercial banks from engaging in investment banking activities such as underwriting and dealing in equity securities. The GLBA removed that barrier, allowing banks to become financial supermarkets. However, the article concludes that GLBA played little if any role in the events surrounding the subprime crisis.
Publication Date
November 5, 2009
Citation Information
Jerry W. Markham. "The Subprime Crisis--A Test Match For the Bankers: Glass-Steagall vs. Gramm-Leach-Bliley"
ExpressO
(2009)
Available at: http://works.bepress.com/jerry_markham/2/