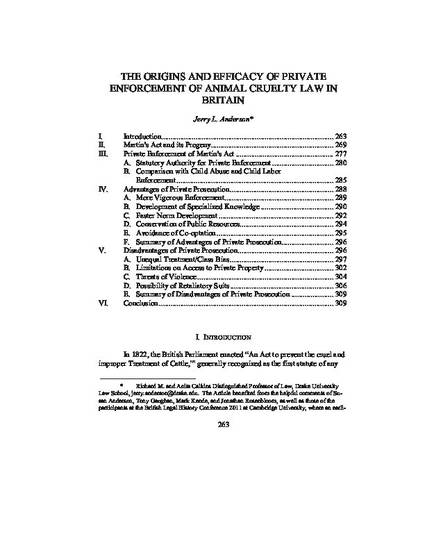 Article
The Origins and Efficacy of Private Enforcement of Animal Cruelty Law in Britain
Drake Journal of Agricultural Law (2012)
Abstract
In 1822, the British Parliament enacted a landmark statute to punish the abuse of animals, known as Martin's Act, named after Richard Martin, MP, who championed the bill. The Act provided a criminal penalty of up to £5 for the cruel treatment of cattle, a term which included horses, oxen, and sheep. Because the Act was the first national statute aimed at animal cruelty, scholars have naturally focused on its substance, which established an important new norm governing the relationship between humans and other animals. However, the Act would not have been successful without vigorous prosecution, which helped define the contours of permissible treatment of animals. From the beginning, and throughout the nineteenth century, the vast majority of these prosecutions were carried out by the Royal Society for the Prevention of Cruelty to Animals, a private charity founded, in part, by Martin himself. Founded just after Martin's Act became law, the Society grew more powerful over the century; during the 1890s, it employed 120 inspectors and brought over 70,000 prosecutions. While private prosecution by the victims of crime was well-established, prosecution by non-victims on behalf of powerless entities was novel and deserves closer scrutiny. This article explores the factors that facilitated this form of enforcement, which ran counter to the general nineteenth century movement toward public prosecution. In addition, by examining the nineteenth century cases involving Society prosecutions, the article outlines the advantages and disadvantages of private enforcement in the animal cruelty context.
Keywords
Animal cruelty,
legal history,
private enforcement
Publication Date
Summer 2012
Citation Information
Jerry L. Anderson. "The Origins and Efficacy of Private Enforcement of Animal Cruelty Law in Britain"
Drake Journal of Agricultural Law
Vol. 17 Iss. 2 (2012)
Available at: http://works.bepress.com/jerry_anderson/15/