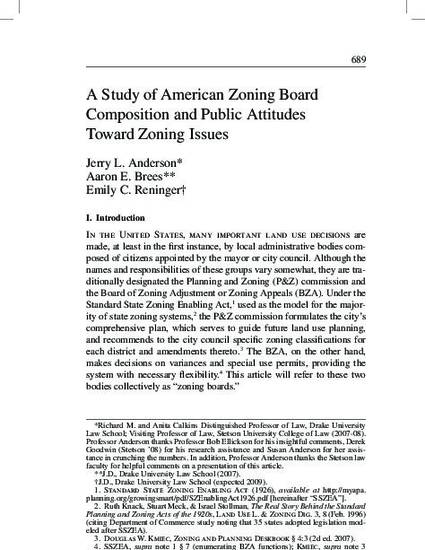 Article
A Study of American Zoning Board Composition and Public Attitudes Toward Zoning Issues
Urban Lawyer (2008)
Abstract
The authors surveyed zoning boards in the over 100 of the largest U.S. cities to determine the occupational composition of board members. It comes as no surprise that the boards are overwhelming populated with white-collar citizens, with business owners and real estate development the most prevalent occupations represented. The authors then conducted a survey of citizens to determine whether this skewed board composition makes any difference to the decision-making process. The study concludes that the composition of the board does matter, but not always in ways one might predict.
Publication Date
Fall 2008
Citation Information
Jerry L. Anderson, Aaron Brees and Emily Renninger. "A Study of American Zoning Board Composition and Public Attitudes Toward Zoning Issues"
Urban Lawyer
Vol. 40 Iss. 4 (2008)
Available at: http://works.bepress.com/jerry_anderson/11/