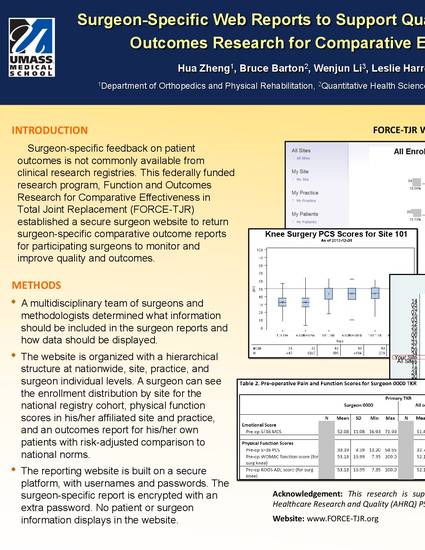 Other
Surgeon-Specific Web Reports to Support Quality Improvement in National Patient-Centered Outcomes Research for Comparative Effectiveness in Total Joint Replacement
Meetings & Symposia
Domain
Clinical Informatics
Type
Infrastructure/Architecture Overview
Start Date
7-6-2014 1:15 PM
End Date
7-6-2014 2:45 PM
Structured Abstract
Introduction
Surgeon-specific feedback on patient outcomes is not commonly available from clinical research registries. This federally funded research program, Function and Outcomes Research for Comparative Effectiveness in Total Joint Replacement (FORCE-TJR) established a secure surgeon website to return surgeon-specific comparative outcome reports for participating surgeons to monitor and improve quality and outcomes.
With the December 2013 CMS public reports of post-TJR 30 day readmission rates and planned 2014 complication rate publication, orthopedic surgeons need new sources of post-operative outcome data to monitor and improve post-hospital care. Systematic analysis of standardized patient-reported pain and function trends across TJR patients is important to surgeons to assess positive patient impact, as well as to provide earlier detection of implant-associated morbidity. We proposed to return risk-adjusted comparative data as a benefit for enrolling all TJR cases in this national research cohort.
Methods
A multidisciplinary team of surgeons and methodologists determined what information should be included in the surgeon reports and how data should be displayed. The reports address: (1) 'How do my patients compare to the national norms in pre-operative medical and musculoskeletal risk factors?', (2) 'How does my patents' disease severity compare to others as measured by pre-operative pain and function at time of surgery?', and (3) 'How do my patients' clinical outcomes (readmission, return to operating room, revision surgery, post-operative pain relief and functional gain) compare to others?' A centralized database which integrates data from patients, surgeons and hospitals is updated weekly. Cleaned, scored data are provided quaterly for web reporting.
The website is organized with a hierarchical structure at nationwide, site, practice, and surgeon individual levels. A surgeon can see the enrollment distribution by site for the national registry cohort, physical function scores in his/her affiliated site and practice, and an outcomes report for his/her own patients with risk-adjusted comparison to national norms. Reports are pdf available for download.
The reporting website is built on a secure platform, with usernames and passwords. The surgeon-specific report is encrypted with an extra password. No patient or surgeon information displays in the website.
Findings
As of January 2014, over 15,000 patients have been enrolled from more than 130 surgeons in 22 states. The reporting website was designed in 2011 and launched in September 2012. It has been updated quarterly for all surgeons to review their site- and individual-specific outcomes data. A random sample of the 130 surgeons found an average of 6.2 logins per user.
Discussion
Returning registry data to surgeons encourages active participation while supporting practice-level quality monitoring and improvement efforts in patient care. We anticipate that returning data to surgeons will facilitate complete data capture and enhance future secondary uses of the data to drive quality enhancement, in addition to patient-centered outcomes research.
Conclusion
We established a secure reporting website to return surgeon-specific comparative outcome reports to 130 surgeons participating in a national patient-centered outcomes research registry for comparative effectiveness research in total joint replacement. Research will conduct CER to examine patient, surgeon, and practice factors associated with optimal outcomes.
Acknowledgements
This research is supported by the Agency for Healthcare Research and Quality (AHRQ 1 P50HS018910).
Creative Commons License
Creative Commons Attribution-Noncommercial-No Derivative Works 3.0
Citation Information
Hua Zheng, Bruce Barton, Wenjun Li, Leslie Harrold, et al.. "Surgeon-Specific Web Reports to Support Quality Improvement in National Patient-Centered Outcomes Research for Comparative Effectiveness in Total Joint Replacement" (2014)
Available at: http://works.bepress.com/jeroan_allison/195/