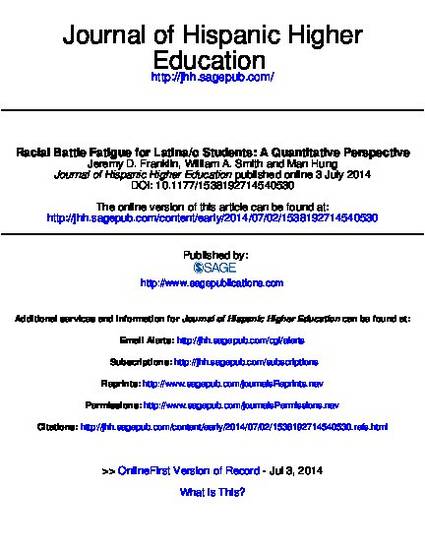 Article
Racial Battle Fatigue for Latina/o Students: A Quantitative Perspective
Journal of Hispanic Higher Education (2014)
Abstract
Previous literature demonstrates that as a result of racial microaggressions and hostile campus racial climates, Latina/o students often state they experience psychological, physiological, and behavioral stress responses during and after racialized incidents on campuses. The purpose of this study is to quantitatively test the racial battle fatigue framework for Latina/o students using structural equation modeling. Findings suggest that psychological stress responses for Latinas/os are most impacted by racial microaggressions in the racial battle fatigue framework.
Keywords
racial battle fatigue,
racial microaggressions,
higher education
Citation Information
Jeremy D Franklin, William A. Smith and Man Hung. "Racial Battle Fatigue for Latina/o Students: A Quantitative Perspective"
Journal of Hispanic Higher Education
(2014)
Available at: http://works.bepress.com/jeremyfranklin/5/