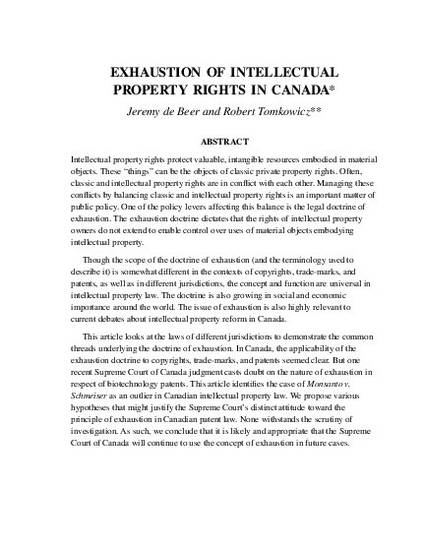 Article
Exhaustion in Canadian Intellectual Property Law
Canadian Intellectual Property Review (2009)
Abstract
Intellectual property rights protect valuable, intangible resources embodied in material objects. These "things" can be the objects of classic private property rights. Often, classic and intellectual property rights are in conflict with each other. Managing these conflicts by balancing classic and intellectual property rights is an important matter of public policy. One of the policy levers affecting this balance is the legal doctrine of exhaustion. The exhaustion doctrine dictates that the rights of intellectual property owners do not extend to enable control over uses of material objects embodying intellectual property. Though the scope of the doctrine of exhaustion (and the terminology used to describe it) is somewhat different in the contexts of copyrights, trade-marks, and patents, as well as in different jurisdictions, the concept and function are universal in intellectual property law. The doctrine is also growing in social and economic importance around the world. The issue of exhaustion is also highly relevant to current debates about intellectual property reform in Canada. This article looks at the laws of different jurisdictions to demonstrate the common threads underlying the doctrine of exhaustion. In Canada, the applicability of the exhaustion doctrine to copyrights, trade-marks, and patents seemed clear. But one recent Supreme Court of Canada judgment casts doubt on the nature of exhaustion in respect of biotechnology patents. This article identifies the case of Monsanto v. Schmeiser as an outlier in Canadian intellectual property law. We propose various hypotheses that might justify the Supreme Court's distinct attitude toward the principle of exhaustion in Canadian patent law. None withstands the scrutiny of investigation. As such, we conclude that it is likely and appropriate that the Supreme Court of Canada will continue to use the concept of exhaustion in future cases.
Citation Information
Jeremy de Beer and Robert Tomkowicz. "Exhaustion in Canadian Intellectual Property Law"
Canadian Intellectual Property Review
Vol. 25 (2009)
Available at: http://works.bepress.com/jeremydebeer/39/