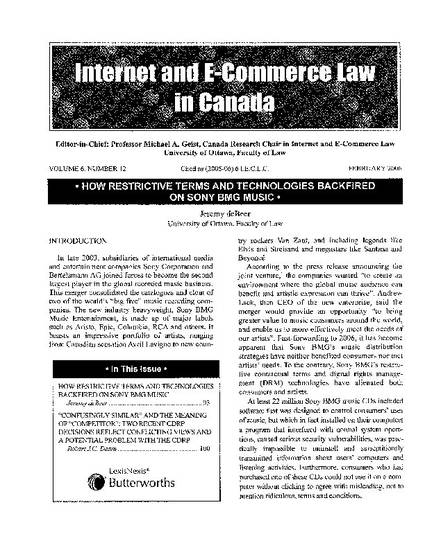 Article
How Restrictive Terms and Technologies Backfired on Sony BMG
Internet & E-Commerce Law in Canada (2006)
Abstract
This short paper addresses the issue of restrictive contractual terms and digital rights management technologies in the music industry, using the recent controversy surrounding Sony BMG Music as a case study. The issues are discussed mainly from a Canadian perspective. Part I provides an overview of the factual and technical background to this story. Part II contains an analysis of the legal consequences of Sony BMG's actions, and offers some insights as to the policy implications for consumer protection, contract and copyright laws.
Keywords
copyright,
digital rights management,
drm,
sony,
rootkit,
music,
canada
Publication Date
February, 2006
Citation Information
Jeremy F. de Beer. "How Restrictive Terms and Technologies Backfired on Sony BMG " (2006) 6:12 Internet & E-Commerce Law in Canada 93.