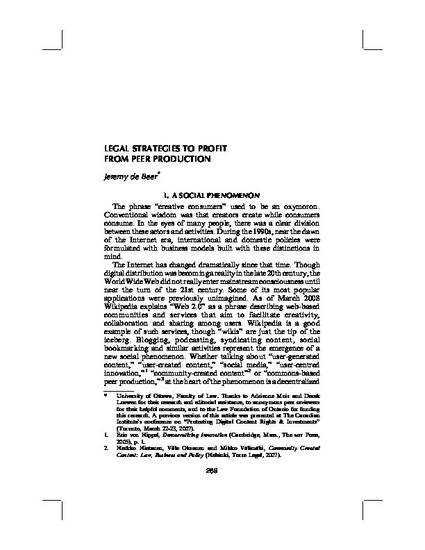 Article
Legal Strategies to Profit from Peer Production
Canadian Business Law Journal (2008)
Abstract
This research explores legal strategies to profit from "peer production" of digital content. I use the term "profit" broadly, to connote financial as well as social, cultural and democratic gains possible in the networked information economy. It used to be that creators would create and consumers would consume. No more. While digital content production in the 20th century was characterized by centralized, hierarchical models, the 21st has brought about decentralized and organic modes of digital production.
New legal strategies are required to capitalize on the opportunities available in this new environment. This paper begins by analyzing the potential legal liabilities of firms dealing with peer produced content, and the safe harbours protecting those firms. It then examines strategic commercial responses to legal uncertainties, and suggests best practices and policies for enabling and profiting from peer production.
Citation Information
Jeremy de Beer, "Legal Strategies to Profit from Peer Production" (2008) 46:1 Can. Bus. L. J. 269-91.