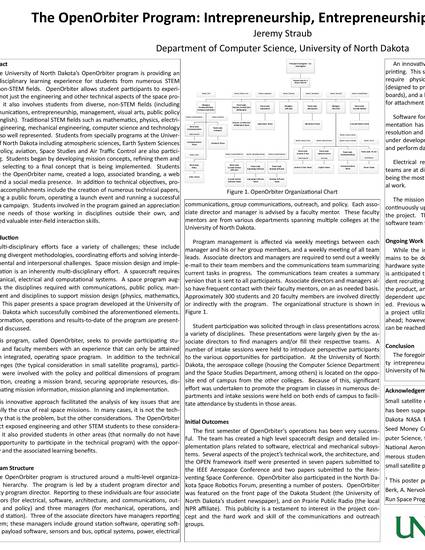 Presentation
The OpenOrbiter Program: Intrepreneurship, Entrepreneurship and Innovation
2nd National Academy of Inventors Conference (2013)
Abstract
The University of North Dakota's OpenOrbiter program is providing an interdisciplinary learning experience for students from numerous STEM and non-STEM fields. OpenOrbiter allows student participants to experience not just the engineering and other technical aspects of the space program, it also involves students from diverse, non-STEM fields (including communications, entrepreneurship, management, visual arts, public policy and English). Traditional STEM fields such as mathematics, physics, electrical engineering, mechanical engineering, computer science and technology are also well represented. Students from specially programs at the University of North Dakota including atmospheric sciences, Earth System Sciences and Policy, aviation, Space Studies and Air Traffic Control are also participating. Students began by developing mission concepts, refining them and down selecting to a final concept that is being implemented. Students chose the OpenOrbiter name, created a logo, associated branding, a web site and a social media presence. In addition to technical objectives, program accomplishments include the creation of numerous technical papers, holding a public forum, operating a launch event and running a successful media campaign. Students involved in the program gained an appreciation for the needs of those working in disciplines outside their own, and learned valuable inter-field interaction skills.
Keywords
OpenOrbiter,
interpreneurship,
innovation,
education
Publication Date
February, 2013
Citation Information
Jeremy Straub. "The OpenOrbiter Program: Intrepreneurship, Entrepreneurship and Innovation"
2nd National Academy of Inventors Conference
(2013)
Available at: http://works.bepress.com/jeremy_straub/68/