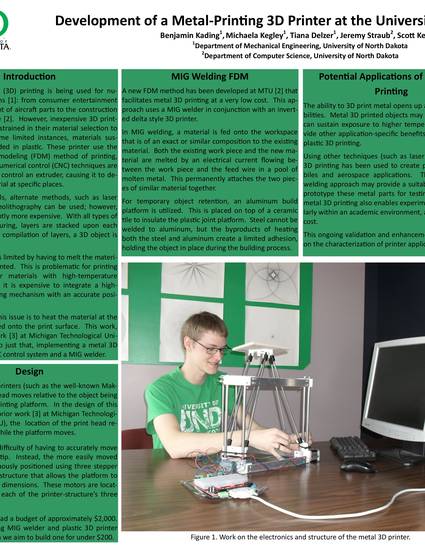 Article
Development of a Metal-Printing 3D Printer at the University of North Dakota
University of North Dakota School of Graduate Studies Scholarly Forum (2015)
Abstract
Three-dimensional (3D) printing is being used for numerous applications: from consumer hobbies to the development of aircraft parts. However, inexpensive 3D printers have been constrained in material selection to plastic. These printer use the fused deposition modeling (FDM) method of printing, which is a relatively new technology that utilizes computer numerical control (CNC) techniques to deposit melted material at specific places. Other methods, for example, include laser sintering and stereolithography. With 3D printing, layers are stacked upon each other and via this compilation of layers, a 3D object is formed. Currently there are a variety of materials that can be used in the FDM process, but is limited by having to melt the material that is being printed. Problematically, printing metals and other high temperature materials in this way is problematic as it is expensive to integrate a high temperature melting mechanism into an accurate positioning device. One way around this issue is to heat the material at the moment it is placed onto the print surface.
A new FDM method has been implemented that does just this, allowing metal 3D printing at a low cost. This method uses a MIG welder in conjunction with an inverted delta style 3D printer. Stepper motors move the platform on which the object is formed. In MIG welding, a material is fed onto the workspace that is of an exact or similar composition to the existing material. The both the work piece and the new material are melted by an electrical current flowing between the work piece and the feed wire in a pool of molten metal. This will permanently attach the two pieces of similar material together.
The initial connection to the print platform, of course, should not be permanent. It is usually desired that the printed part is only lightly attached to the print surface. This helps with detaching the part when the print job is finished. In the case of this metal 3D printer, this is accomplished by using a different type of metal. For example, if a steel object is being printed, an aluminum plate is used as the base surface. This makes it so the printed material doesn't fully weld to the surface.
This poster presents the ongoing work at UND to develop and test a metal 3D printer. It describes the metal 3D printing process as well as current results and prospective future work.
Keywords
metal 3D printing,
steel,
aluminum
Publication Date
March 10, 2015
Citation Information
Benjamin Kading, Michaela Kegley, Tiana Delzer, Jeremy Straub, et al.. "Development of a Metal-Printing 3D Printer at the University of North Dakota"
University of North Dakota School of Graduate Studies Scholarly Forum
(2015)
Available at: http://works.bepress.com/jeremy_straub/234/