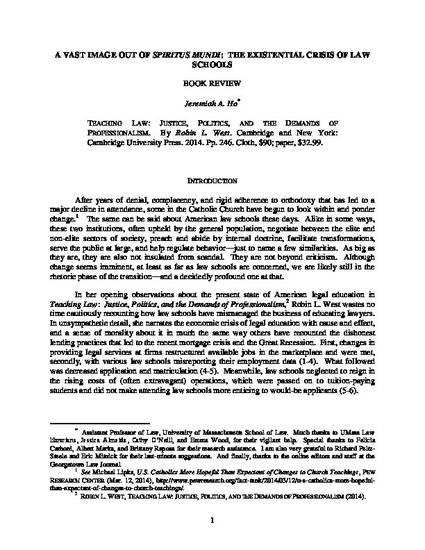 Article
A Vast Image Out of Spiritus Mundi: The Existential Crisis of Law Schools (Book Review)
Georgetown Law Journal Online (2014)
Abstract
Review of Teaching Law: Justice, Politics, and the Demands of Professionalism. By Robin L. West. Cambridge and New York: Cambridge University Press. 2014. Pp. 246. Cloth, $90; paper, $32.99.
Keywords
book,
review,
law,
school,
american,
education,
lawyers,
economic,
crisis,
graduates,
employment,
scholarship,
professionalism,
business,
model,
skills,
teaching,
justice,
doctrine,
pedagogy,
legal,
reform,
reformation
Citation Information
Jeremiah A. Ho. "A Vast Image Out of Spiritus Mundi: The Existential Crisis of Law Schools (Book Review)"
Georgetown Law Journal Online
(2014)
Available at: http://works.bepress.com/jeremiah_ho1/5/