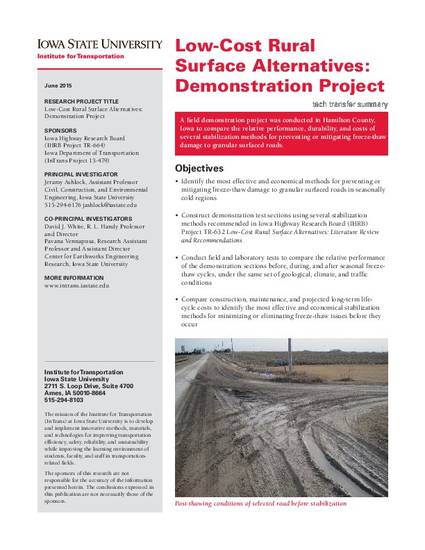 Article
Low-Cost Rural Surface Alternatives: Demonstration Project - Tech Transfer Summary
InTrans Project Reports (2015). (2015)
Abstract
A field demonstration project was conducted in Hamilton County, Iowa to compare the relative performance, durability, and costs of several stabilization methods for preventing or mitigating freeze-thaw damage to granular surfaced roads.
Keywords
freeze-thaw,
granular surfaced roads,
low-volume roads,
mechanistic-based performance,
soil stabilization,
thaw weakening
Publication Date
June, 2015
Citation Information
Cheng Li, Jeramy C. Ashlock, David White, and Pavana Vennapusa. "Low-Cost Rural Surface Alternatives: Demonstration Project - Tech Transfer Summary" InTrans Project Reports (2015).