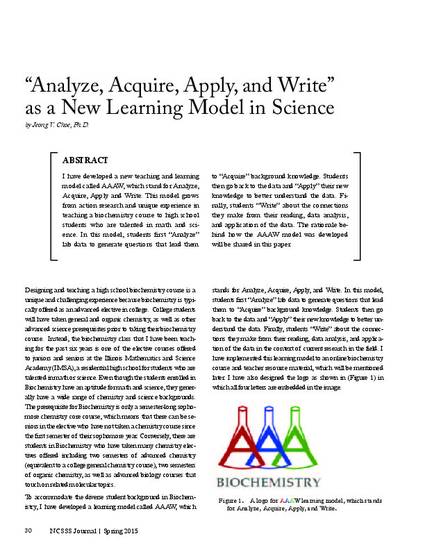 Article
"Analyze, Acquire, Apply, and Write" as a New Learning Model in Science
Faculty Publications & Research
Publication Date
4-1-2015
Abstract
I have developed a new teaching and learning model called AAAW, which stand for Analyze, Acquire, Apply and Write. This model grows from action research and unique experience in teaching a biochemistry course to high school students who are talented in math and science. In this model, students first "Analyze" lab data to generate questions that lead them to "Acquire" background knowledge. Students then go back to the data and "Apply" their new knowledge to better understand the data. Finally, students "Write" about the connections they make from their reading, data analysis, and application of the data. The rationale behind how the AAAW model was developed will be shared in this paper.
Citation Information
Choe, J. V. (2015). "Analyze, Acquire, Apply, and Write" as a new learning model in science.
NCSSS Journal
,
20
(1), 30-36. Retrieved from http://digitalcommons.imsa.edu/sci_pr/14/