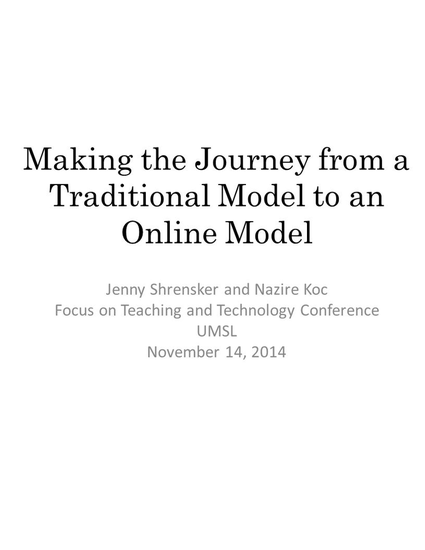 Presentation
Making the Journey from a Traditional Model to an Online Model
Focus on Teaching and Technology Conference (2014)
Abstract
There is an increasing demand by students for more introductory online courses and more online resources in traditional courses. This session will highlight four teaching techniques that make use of technology, engage the learner, and can be incorporated into any type of course for any subject. The featured technology includes video lectures with a Smartboard, Pencast videos, online quizzes and tests using Respondus, Blackboard, and MyMathLab, and online homework systems.
JCP 204
Publication Date
November 14, 2014
Citation Information
Jenny Shrensker and Nazire Koc. "Making the Journey from a Traditional Model to an Online Model"
Focus on Teaching and Technology Conference
(2014)
Available at: http://works.bepress.com/jenny-shrensker/2/