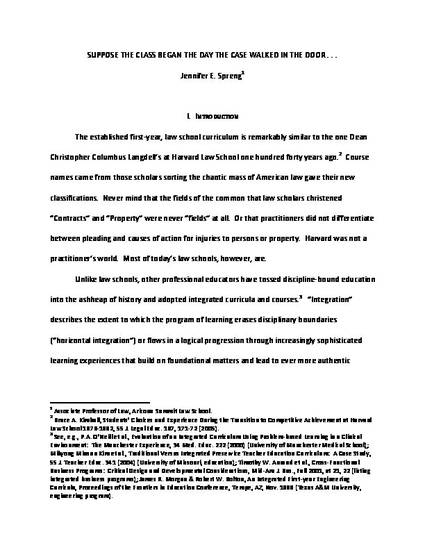 Unpublished Paper
Suppose the Class Began the Day the Case Walked in the Door . . .
(2015)
Abstract
Problem-solving is the manifestation of a lawyer's expertise. Unfortunately, the first year of law school is too highly compartmentalized and often semi-rote-learning experience that does not disturb what are many students' passive undergraduate school learning strategies. Once taught the same way in law school, students are unlikely to develop the more intellectually sophisticated, relational learning strategies to make the cross-topical and cross-disciplinary connections of which problem-solving expertise is made.
This article argues that horizontally and vertically integrated first-year courses with spiral designs that prioritize honing students' analytical and problem-solving capacities can break this cycle and prepare students with more self-directed and disciplined learning strategies as well as sharper intellectual and cognitive tools for the rest of law school and beyond. "Horizontal integration" describes the extent to which the program of learning erases disciplinary boundaries. "Vertical integration" describes a curriculum that provides authentic learning experiences at the introductory level or flows in a logical progression to ever more sophisticated and authentic learning experiences.
A program of learning that is both horizontally and vertically integrated is a "spiral curriculum," which is so designed to facilitate students' construction of knowledge and to promote higher-order and independent thinking. The quintessential characteristic of a spiral curriculum returns over and over again to concepts at increasingly higher levels of sophistication and depth, so that students can fit pieces of new knowledge into their existing framework.
One such course is "Introduction to Civil Litigation," an innovative ten-credit, full-year spiral integration of torts, civil procedure and a simulated litigation practicum that is all about making connections, as designed and co-taught by a colleague and I. The course employs a focused inquiry methodology that demands higher-level thinking and active learning from students with an engaging and advanced year-long drug product liability simulation. Most important, torts and procedure present a dizzying array of points integration: concepts common to both subjects; using a topic from one subject to make sense of other; extracting doctrine from one subject in cases usually associated with the other, and using doctrine and methods from one subject as tools to teach the other subject.
Introduction to Civil Litigation reaches back to a time before Langdell before torts and procedure had been broken into separate fields to prove its doctrinal coherence. It rests on a more realistic two-subject pedagogical narrative. The article concludes that with committed investment of institutional and personal resources, well integrated first-year courses would be an effective tool for improving high-priority student outcomes: problem solving, higher-order thinking and self-directed learning.
I know. We did it.
Keywords
Legal Education,
Legal Profession,
Practice and Procedure,
Tort Law,
Products Liability,
Inquiry,
Cognitive Psychology
Citation Information
Jennifer E Spreng. "Suppose the Class Began the Day the Case Walked in the Door . . ." (2015)
Available at: http://works.bepress.com/jennifer_spreng/19/