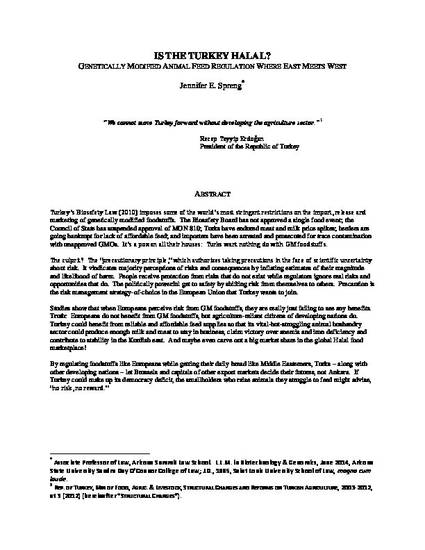 Article
Is the Turkey Halal? Genetically Modified Animal Feed Regulation Where East Meets West
Drake Journal of Agricultural Law (forthcoming) (2015)
Abstract
Turkey's Biosafety Law (2010) imposes some of the world's most stringent restrictions on the import, release and marketing of genetically modified foodstuffs. The Biosafety Board has not approved a single food event; the Council of State has suspended approval of MON 810; Turks have endured meat and milk price spikes; herders are going bankrupt for lack of affordable feed; and importers have been arrested and prosecuted for trace contamination with unapproved GMOs. It's a pox an all their houses: Turks want nothing do with GM foodstuffs.
The culprit? The "precautionary principle," which authorizes taking precautions in the face of scientific uncertainty about risk. It vindicates majority perceptions of risks and consequences by inflating estimates of their magnitude and likelihood of harm. People receive protection from risks that do not exist while regulators ignore real risks and opportunities that do. The politically powerful get to safety by shifting risk from themselves to others. Precaution is the risk management strategy-of-choice in the European Union that Turkey wants to join.
Studies show that when Europeans perceive risk from GM foodstuffs, they are really just failing to see any benefits. Truth: Europeans do not benefit from GM foodstuffs, but agriculture-reliant citizens of developing nations do. Turkey could benefit from reliable and affordable feed supplies so that its vital-but-struggling animal husbandry sector could produce enough milk and meat to stay in business, claim victory over anemia and iron deficiency and contribute to stability in the Kurdish east. And maybe even carve out a big market share in the global Halal food marketplace!
By regulating foodstuffs like Europeans while getting their daily bread like Middle Easterners, Turks – along with other developing nations – let Brussels and capitals of other export markets decide their futures, not Ankara. If Turkey could make up its democracy deficit, the smallholders who raise animals they struggle to feed might advise, "no risk, no reward."
Keywords
Turkey,
biotechnology,
genetically modified food,
genetically modified feed,
precautionary principle,
risk
Citation Information
Jennifer E Spreng. "Is the Turkey Halal? Genetically Modified Animal Feed Regulation Where East Meets West"
Drake Journal of Agricultural Law (forthcoming)
(2015)
Available at: http://works.bepress.com/jennifer_spreng/15/