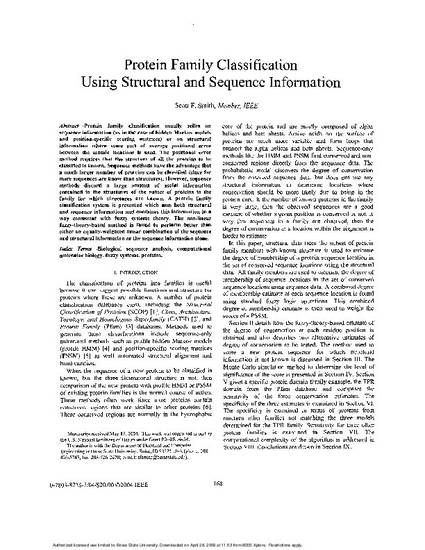 Article
Protein Family Classification Using Structural and Sequence Information
Proceedings of the 2004 IEEE Symposium on Computational Intelligence in Bioinformatics and Computational Biology
Document Type
Conference Proceeding
Publication Date
1-1-2004
Abstract
Protein family classification usually relies on sequence information (as in the case of hidden Markov models and position-specific scoring matrices) or on structural information where some sort of average positional error between the atomic locations is used. The positional error method requires that the structure of all the proteins to be classified is known. Sequence methods have the advantage that a much larger number of proteins can be classified (since far more sequences are know than structures). However, sequence methods discard a large amount of useful information contained in the structures of the subset of proteins in the family for which structures are known. A protein family classification system is presented which uses both structural and sequence information and combines this information in a way consistent with fuzzy systems theory. The non-linear fuzzy-theory-based method is found to perform better than either an equally-weighted linear combination of the sequence and structural information or the sequence information alone.
Copyright Statement
This document was originally published by IEEE in Proceedings of the 2004 IEEE Symposium on Computational Intelligence in Bioinformatics and Computational Biology. Copyright restrictions may apply. DOI: 10.1109/CIBCB.2004.1393950
Citation Information
Jennifer A. Smith. "Protein Family Classification Using Structural and Sequence Information"
Proceedings of the 2004 IEEE Symposium on Computational Intelligence in Bioinformatics and Computational Biology
(2004)
Available at: http://works.bepress.com/jennifer_smith/7/