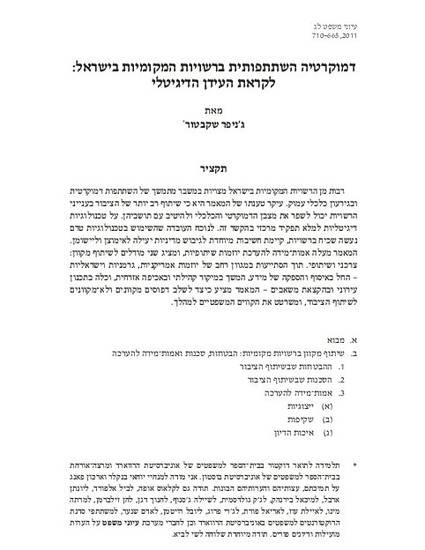 Article
Local Participatory Democracy in Israel: Toward a Digital Era
Tel Aviv University Law Review (2010)
Abstract
Numerous Israeli cities are amidst a participatory and economic crisis. The gist of the Article is that stronger citizen participation in municipal affairs can help mitigate the crisis, and that digital technologies should play a central role in this endeavor. As the use of digital technologies is still largely uncommon in this context, the Article contends that an effective institutional design for digital platforms is particularly important. Hence, the Article suggests criteria for the evaluation of digital participatory initiatives and develops two models of online citizen participation—consumerist and co-productive. Relying on a variety of American, German, and Israeli examples, the Article suggests how to combine between digital and non-digital participatory patterns and create a supporting legal framework for a meaningful engagement of citizens in municipal affairs.
Citation Information
Jennifer Shkabatur. "Local Participatory Democracy in Israel: Toward a Digital Era"
Tel Aviv University Law Review
Vol. 33 (2010)
Available at: http://works.bepress.com/jennifer_shkabatur/3/