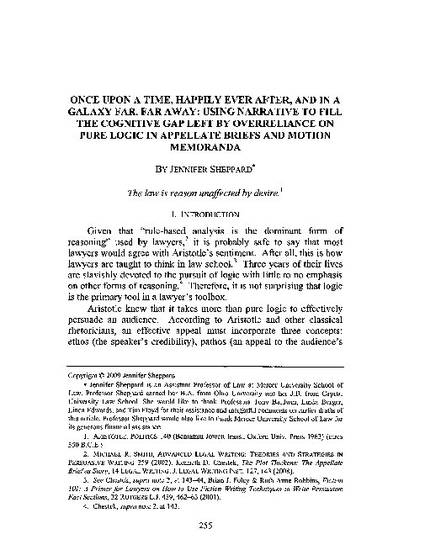 Article
Once Upon A Time, Happily Ever After, and In A Galaxy Far, Far Away: Using Narrative to Fill the Cognitive Gap Left by Overreliance on Pure Logic in Appellate Briefs and Motion Memoranda
Willamette Law Review (2009)
Abstract
This article explores the cognitive effects of narrative and concludes that it is a highly effective persuasive tool because stories appeal to our logic and reason, not just to our beliefs and values. The article identifies the elements of an effective story and explores how lawyers can use narrative in appellate briefs and motion memoranda to tell stories not just about the facts of their clients' cases, but also about the law. Building on these bases, the article establishes that, in order to craft an effective story in a brief or motion memorandum, a lawyer must tell that story in the argument section of the document as well as in the facts section. Finally, the article illustrates its recommendations by examining the stories told by Abe Fortas in the petitioner's brief in the landmark case Gideon v. Wainright.
Keywords
advocacy,
appellate adocacy,
legal writing,
narrative,
storytelling
Citation Information
Jennifer L. Sheppard. "Once Upon A Time, Happily Ever After, and In A Galaxy Far, Far Away: Using Narrative to Fill the Cognitive Gap Left by Overreliance on Pure Logic in Appellate Briefs and Motion Memoranda"
Willamette Law Review
Vol. 46 (2009)
Available at: http://works.bepress.com/jennifer_sheppard/2/