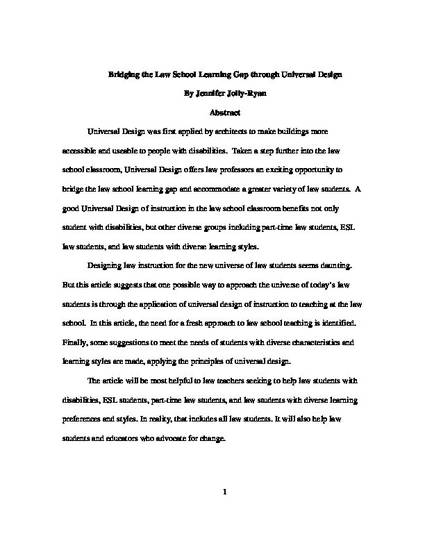 Unpublished Paper
Bridging the Law School Learning Gap Through Universal Design
ExpressO (2011)
Abstract
Bridging the Law School Learning Gap through Universal Design
By Jennifer Jolly-Ryan
Abstract
Universal Design was first applied by architects to make buildings more accessible and useable to people with disabilities. Taken a step further into the law school classroom, Universal Design offers law professors an exciting opportunity to bridge the law school learning gap and accommodate a greater variety of law students. A good Universal Design of instruction in the law school classroom benefits not only student with disabilities, but other diverse groups including part-time law students, ESL law students, and law students with diverse learning styles.
Designing law instruction for the new universe of law students seems daunting. But this article suggests that one possible way to approach the universe of today's law students is through the application of universal design of instruction to teaching at the law school. In this article, the need for a fresh approach to law school teaching is identified. Finally, some suggestions to meet the needs of students with diverse characteristics and learning styles are made, applying the principles of universal design.
The article will be most helpful to law teachers seeking to help law students with disabilities, ESL students, part-time law students, and law students with diverse learning preferences and styles. In reality, that includes all law students. It will also help law students and educators who advocate for change.
Publication Date
May 3, 2011
Citation Information
Jennifer Ryan. "Bridging the Law School Learning Gap Through Universal Design"
ExpressO
(2011)
Available at: http://works.bepress.com/jennifer_ryan/1/