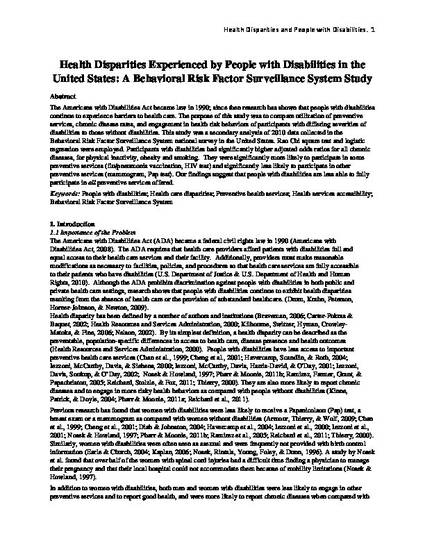 Article
Health Disparities Experienced by People with Disabilities in the US: A Behavioral Risk Factor Surveillance System Study
Global Journal of Health Science
Publication Date
9-9-2012
Abstract
The Americans with Disabilities Act became law in 1990; since then research has shown that people with disabilities continue to experience barriers to health care. The purpose of this study was to compare utilization of preventive services, chronic disease rates, and engagement in health risk behaviors of participants with differing severities of disabilities to those without disabilities. This study was a secondary analysis of 2010 data collected in the Behavioral Risk Factor Surveillance System national survey in the United States. Rao Chi square test and logistic regression were employed. Participants with disabilities had significantly higher adjusted odds ratios for all chronic diseases, for physical inactivity, obesity and smoking. They were significantly more likely to participate in some preventive services (flu/pneumonia vaccination, HIV test) and significantly less likely to participate in other preventive services (mammogram, Pap test). Our findings suggest that people with disabilities are less able to fully participate in all preventive services offered.
Keywords
Ability,
Ability,
Influence of age on,
Adolescent,
Adult,
Age Factors,
Americans with Disabilities Act of 1990 (United States),
Barrier-free design,
Behavioral Risk Factor Surveillance System,
Chronic Disease/epidemiology,
Chronic diseases,
Chronically ill,
Disability evaluation,
Disabled Persons/statistics & numerical data,
Economics--Sociological aspects,
Female,
Health behavior,
Health care disparities,
Healthcare Disparities/statistics & numerical data,
Health services accessibility,
Health services accessibility—Evaluation,
Humans,
Male,
Men,
Middle Aged,
Older people,
People with disabilities,
Preventive health services,
Preventive Health Services/utilization,
Risk-Taking,
Risk-taking (Psychology),
Sex Factors,
Sex factors in disease,
Social status,
Socioeconomic Factors,
Teenagers,
United States/epidemiology,
Women,
Young Adult
Citation Information
Jennifer Renee Pharr and Timothy J. Bungum. "Health Disparities Experienced by People with Disabilities in the US: A Behavioral Risk Factor Surveillance System Study"
Global Journal of Health Science
Vol. 4 Iss. 6 (2012) p. 99 - 108
Available at: http://works.bepress.com/jennifer_pharr/32/