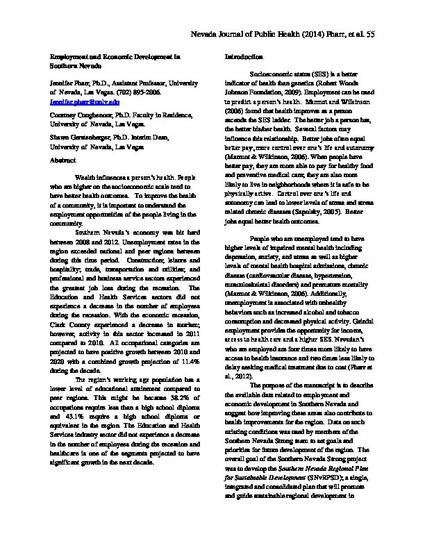 Article
Employment and Economic Development in Southern Nevada
Nevada Journal of Public Health
Keywords
Community health services,
Economics,
Economics--Sociological aspects,
Health,
Health services accessibility,
Public health,
Unemployed,
Unemployment
Abstract
Wealth influences a person's health. People who are higher on the socioeconomic scale tend to have better health outcomes. To improve the health of a community, it is important to understand the employment opportunities of the people living in the community. Southern Nevada's economy was hit hard between 2008 and 2012. Unemployment rates in the region exceeded national and peer regions between during this time period. Construction; leisure and hospitality; trade, transportation and utilities; and professional and business service sectors experienced the greatest job loss during the recession. The Education and Health Services sectors did not experience a decrease in the number of employees during the recession. With the economic recession, Clark County experienced a decrease in tourism; however, activity in this sector increased in 2011 compared to 2010. All occupational categories are projected to have positive growth between 2010 and 2020 with a combined growth projection of 11.4% during the decade. The region's working age population has a lower level of educational attainment compared to peer regions. This might be because 38.2% of occupations require less than a high school diploma and 43.1% require a high school diploma or equivalent in the region. The Education and Health Services industry sector did not experience a decrease in the number of employees during the recession and healthcare is one of the segments projected to have significant growth in the next decade.
Citation Information
Jennifer Pharr, Courtney Coughenour and Shawn Gerstenberger. "Employment and Economic Development in Southern Nevada"
Available at: http://works.bepress.com/jennifer_pharr/24/