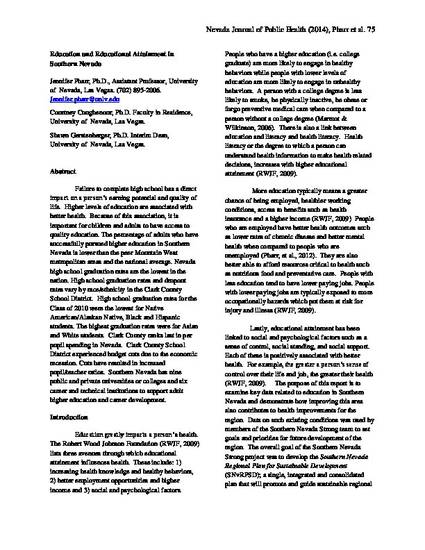 Article
Education and Educational Attainment in Southern Nevada
Nevada Journal of Public Health
Keywords
Education,
Health,
Health education,
Public health,
Quality of life
Abstract
Failure to complete high school has a direct impact on a person's earning potential and quality of life. Higher levels of education are associated with better health. Because of this association, it is important for children and adults to have access to quality education. The percentage of adults who have successfully pursued higher education in Southern Nevada is lower than the peer Mountain West metropolitan areas and the national average. Nevada high school graduation rates are the lowest in the nation. High school graduation rates and dropout rates vary by race/ethnicity in the Clark County School District. High school graduation rates for the Class of 2010 were the lowest for Native American/Alaskan Native, Black and Hispanic students. The highest graduation rates were for Asian and White students. Clark County ranks last in per pupil spending in Nevada. Clark County School District experienced budget cuts due to the economic recession. Cuts have resulted in increased pupil/teacher ratios. Southern Nevada has nine public and private universities or colleges and six career and technical institutions to support adult higher education and career development.
Citation Information
Jennifer Pharr, Courtney Coughenour and Shawn Gerstenberger. "Education and Educational Attainment in Southern Nevada"
Available at: http://works.bepress.com/jennifer_pharr/16/