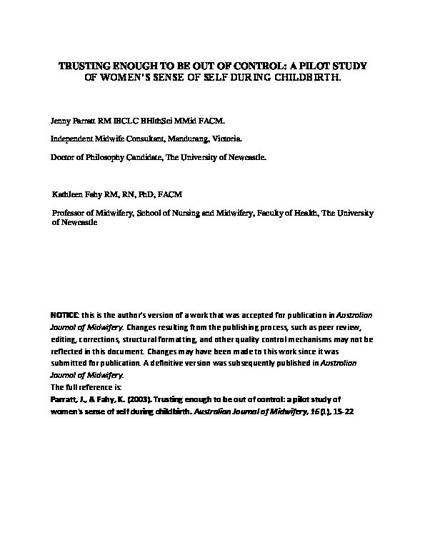 Article
Trusting enough to be out of control: a pilot study of women's sense of self during childbirth
Australian Midwifery
Publication Date
1-1-2003
Peer Reviewed
Peer-Reviewed
Abstract
The findings of a pilot study undertaken to determine what features of childbirth have a positive effect on women's sense of self are presented in this paper. This research contrasted the midwifery and medical models of maternity care using feminist constructivism, personal narrative and a thematic analysis. Using theory that is strongly grounded in empirical data, this paper outlines the influence of features inherent in the woman's experience of childbirth that have been theoretically linked to how women feel about themselves.
Citation Information
Preprint of: Parratt, JA & Fahy, KM 2003, 'Trusting enough to be out of control: a pilot study of women's sense of self during childbirth', Australian Midwifery, vol. 16, no. 1, pp. 15-22.
Published version available from: