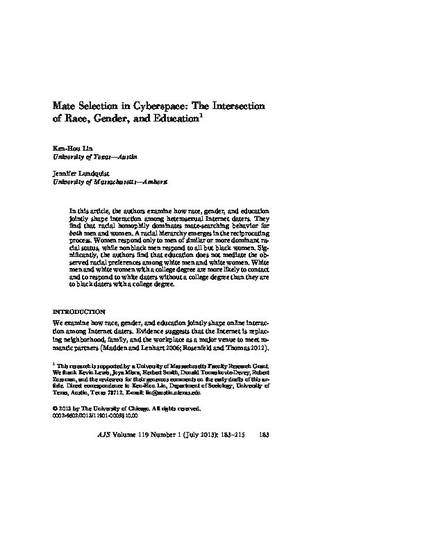 Article
Mate Selection in Cyberspace: The Intersection of Race, Gender, and Education
American Journal of Sociology (2013)
Abstract
In this article, the authors examine how race, gender, and education jointly shape interaction among heterosexual Internet daters. They find that racial homophily dominates mate-searching behavior for both men and women. A racial hierarchy emerges in the reciprocating process. Women respond only to men of similar or more dominant racial status, while nonblack men respond to all but black women. Significantly, the authors find that education does not mediate the observed racial preferences among white men and white women. White men and white women with a college degree are more likely to contact and to respond to white daters without a college degree than they are to black daters with a college degree.
Keywords
Assortative Mating,
Online dating,
Race,
Homophily
Citation Information
Ken-Hou Lin and Jennifer H. Lundquist. "Mate Selection in Cyberspace: The Intersection of Race, Gender, and Education"
American Journal of Sociology
(2013)
Available at: http://works.bepress.com/jennifer_lundquist/2/