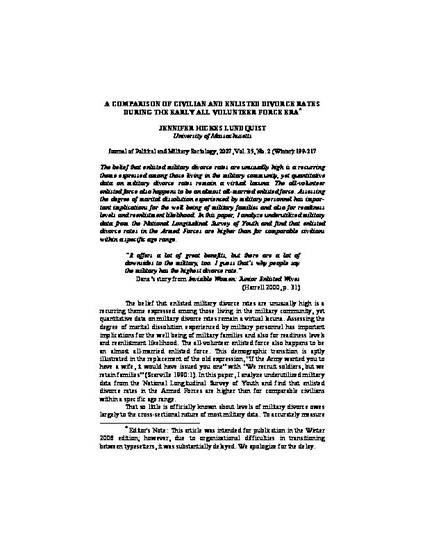 Article
A Comparison Of Civilian And Enlisted Divorce Rates During The Early All Volunteer Force
Journal of Political and Military Sociology (2007)
Abstract
The belief that enlisted military divorce rates are unusually high is a recurring theme expressed among those living in the military community, yet quantitative data on military divorce rates remain a virtual lacuna. The all-volunteer enlisted force also happens to be an almost all-married enlisted force. Assessing the degree of marital dissolution experienced by military personnel has important implications for the well being of military families and also for readiness levels and reenlistment likelihood. In this paper, I analyze underutilized military data from the National Longitudinal Survey of Youth and find that enlisted divorce rates in the Armed Forces are higher than for comparable civilians within a specific age range.
Keywords
Divorce,
retreat from marriage,
family,
race,
military
Citation Information
Jennifer H. Lundquist. "A Comparison Of Civilian And Enlisted Divorce Rates During The Early All Volunteer Force"
Journal of Political and Military Sociology
(2007)
Available at: http://works.bepress.com/jennifer_lundquist/11/