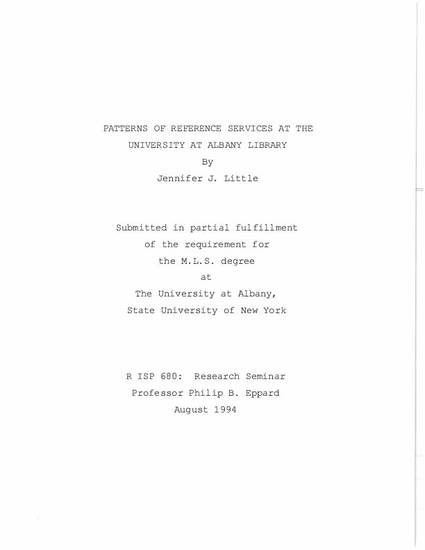 Thesis
Patterns of Reference Services at the University at Albany Library
Library Publications
Publication Date
8-1-1994
Abstract
The objective of this study was to determine the patterns of use at the University at Albany's Main Library reference desk by compiling and analyzing statistics for the latest three fall semesters (1991-1993) for use by the head of the reference department for scheduling staff. As a part of the basic analysis, trends such as the following were expected: an increase in overall weekly transactions succeeded by a decrease, an increase in transactions taking longer than five minutes, and a decrease in directional transactions. The identification of the busiest days and hours enabled the creation of a more detailed analysis of the specific times when staff were most needed. Busiest days were anticipated to be in descending order: Monday, Tuesday, Thursday, Wednesday, Thursday, Friday, Sunday, and Saturday. It was hypothesized that the busiest times of day were Tuesday and Thursday afternoons from 1 to 4 p.m., followed closely by the same times on Monday, Wednesday, and Friday. Monday was expected to have the busiest mornings; it also was expected to have the busiest evenings with each subsequent evening progressively becoming quieter. The number of transactions compared to the number of staff-person hours were calculated for analysis of staff workload. Finally, because of the specificity of the government documents transactions, their hourly patterns were analyzed with the hope of giving adequate coverage at the desk by those who specialized in government documents.
Citation Information
Little, J.J. (1994). Patterns of reference service at the University at Albany reference desk. (Master's Thesis). University at Albany, State University of New York, Albany, NY.