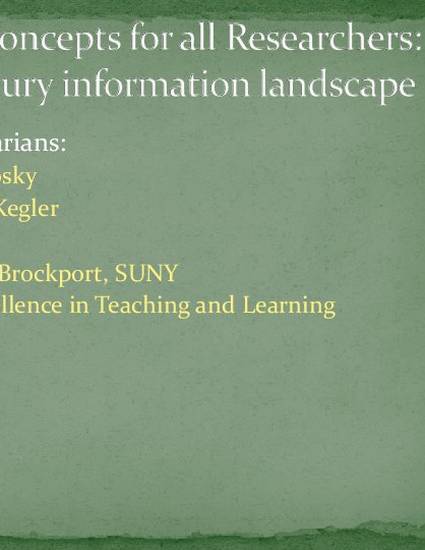 Presentation
Concepts for all researchers: the 21st century information landscape
Library Publications and Presentations
Document Type
Presentation
Publication Date
3-13-2014
Abstract
Research tools for scholars are abundant and will continue to evolve. What ideas, or threshold concepts, are necessary for today's researchers? Where and when should students learn how to research effectively and cite correctly? Who should take responsibility for this learning? Librarians Laura Dumuhosky and Jennifer Kegler will describe the current information landscape and provide practical examples to use in your courses (or that you may already be using). They will share information from the draft Framework for Information Literacy for Higher Education recently published by the ACRL. Come prepared to discuss your experiences with student research projects and where you believe information literacy abilities should be taught at Brockport.
Citation Information
Dumuhosky, L.J. & Kegler, J.L. (2014, March). Little Kegler, J. (2013, April). Threshold concepts for all researchers: the 21st century information landscape. Brown Bag Discussion, CELT, The College at Brockport, Brockport, NY.