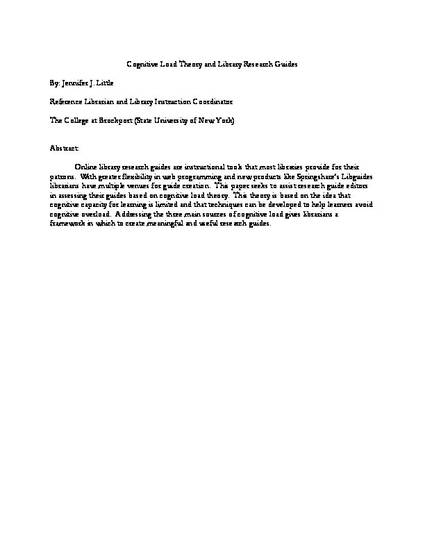 Article
Cognitive Load Theory and Library Research Guides
Library Publications and Presentations
Publication Date
3-1-2010
Abstract
Online library research guides are instructional tools that most libraries provide for their patrons. With greater flexibility in web programming and new products like Springshare's Libguides librarians have multiple venues for guide creation. This paper seeks to assist research guide editors in assessing their guides based on cognitive load theory. This theory is based on the idea that cognitive capacity for learning is limited and that techniques can be developed to help learners avoid cognitive overload. Addressing the three main sources of cognitive load gives librarians a framework in which to create meaningful and useful research guides.
Citation Information
Little, J. J. (2010). Cognitive load theory and library research guides.
Internet Reference Services Quarterly, 15
(1), 53-63. doi: 10.1080/10875300903530199